When planning a laundry room, several important factors should be taken into consideration. Amount and type of use should dictate the direction taken in a laundry's design. The location and features chosen will determine the ease of use of the finished room.

Laundry rooms vary greatly depending on their intended use. While "washing clothes" may seem obvious, a laundry room will look much different for a single apartment dweller than it will for a large family in a detached home. For light duty, a stacked washer and dryer tucked away in a closet may do the job. With some shelves for storage and folding and a rod for hanging clothes, this may be enough for a small household. A large family, on the other hand, may demand more features such as a large utility sink and storage for both supplies and laundry hampers.
The laundry room is often situated next to the kitchen, which may make sense. When considering the cost of construction, keeping water and gas lines in one area of the home saves money. The kitchen and laundry are also tied together by their central roles in running a household. However, most laundry, including dirty clothes, towels, and sheets, is generated from the bedrooms and private baths in a home. So from this point of view, it may be a better idea to locate the laundry room near these areas if possible. For safety reasons, it's a good idea to situate a laundry room on an outside wall to keep dryer ducts as short as possible. This, in addition to an annual duct cleaning, helps to prevent excess lint buildup that can lead to dryer fires.
Beyond the basics of a washer and dryer, a laundry room can benefit from some thoughtful features. A utility sink with hot and cold water makes washing delicate items and cleaning up after household chores easy and efficient. Also, dedicate an area for ironing; if space is limited, choose a wall-mounted ironing board that folds up out of the way.
Finally, don't forget to add some sunshine to the room! Wide windows, bright colors on the walls, and a few cheerful accents can really make doing the laundry more enjoyable.
Laundry Room Product Vendors
---
Copyright © Zeducorp.
All rights reserved.

Laundry Room Planning and Design Considerations
Related Image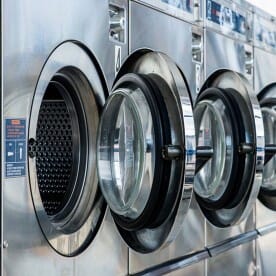 Laundry Machines For Washing Clothes